EVIL Star tries to substitute rebellcodes with modules out of "gone with the wind "
you must anticipate this with your team of street wise heroes. you must free showteam of old images.
song: ( cindy hits ground)motherfuckers make the world of picture + money ....TITELSONGS devotion+stop harmony : CROMATIC + DIANA, text+idee carla egerer , MUSIK: ACID SCOUT, surround eff: BJÖRN EICHELBAUM, fotos : ELLEN GUTOWSKY plakate: CARLOS JULIAN, MITPRODUZENTEN: PANTHER , GMBH, GRUPPE 3, KODAK MÜNCHEN, KASSEIR GMBH, NEW HAIR, -,Bond agentur : Pash streetwear, www.redwoman.de , MP3 FILES: SASCHA BRANDT, ACID SCOUT, ...youtube..RedWoman
CREW+CAST the kiss of redwoman buch regie produktion:carla egerer, kamera : nathalie wiedermann , miriam faßbender (Red Woman) oliver möller (Killer)-clip coco burchhardt (pinky) michelle müller (Star), khaleid kasseir (clip dealer und inder) -michaela unterholzer ,heidi schubeck ,ellen gutowsky , ( Teenies) niklas stolzenberg(skater) Dragan ( neroman) petros seipelt ( Irvan ) ralph murthaler ( Arzt) , SPONSOR: BESONDEREN DANK AN BOND AGENTUR,ANJA BETRRAM UND STEFAN FLUGHAFEN MÜNCHEN: HERMAN PRIGGE, SWM : FRAU WENGER , danke an kodak: herr schekenhofer an Bavariakopierwerk:Herrn Knerr ,kienberger, freund, , Postproduktion :ARRI TV danke an : cornelia freund, marion v. roland, markus Kirsch Danke Avid support: frank müller, tobi forth, anschana eschenbach, geoffrey graffwallner , holger, an christof ebhardt und an alle die das projekt unterstützt haben. zentralfilm : michael hiebel , internet-technik: Simon Finkenstaedt /patrick raithofer-16mm-to-tvfrequenz|clip /clipbearbeitung:rudi neuwarth www.eddistudio.de , figuren:comixschriften: meisterbetrieb Tarsus / DesiGn Franz DeGer, fotos neu red woman: marlene morreis, susi: ellen gutovsky,frisuren und maske:heidi schuhbeck, fotos: judith häusler , kostüme für comixfiguren : ANA ALCAZAR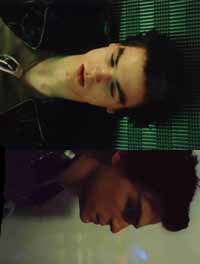 killer
Nero man
MISTER UMBERTO MASTER US-killer designer suit for the dirty work of Media-PAX. straight creative. loves his mother mail .youtube BAGDAD ...

redwomande
song: ( cindy hits ground) motherfuckers make the world of picture + money
TITELSONGS devotion+stop harmony : CROMATIC + DIANA, text+idee carla egerer MUSIK: ACID SCOUT, surround eff: BJÖRN EICHELBAUM, fotos : ELLEN GUTOWSKY plakate: CARLOS JULIAN, MITPRODUZENTEN: PANTHER , GMBH, GRUPPE 3, KODAK MÜNCHEN, KASSEIR GMBH, NEW HAIR, -,Bond agentur : Pash streetwear, www.redwoman.de , MP3 FILES: SASCHA BRANDT, ACID SCOUT, ...youtube..RedWoman email: info(at)redwoman.de ..
ESPANYOlSTAR